Acorn Nuts are used for safety and appearance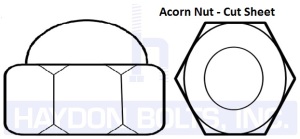 because of their high crown caps that cover exposed threaded ends, and add a finished look to a project. 
Diameters: 1/4″ through 7/8″
Finishes: Plain & Stainless Steel.                      ***Galvanized is not a stock item and is a special make only***
Materials: Carbon Steel, Stainless (304 & 316)
Contact your sales representative for more information on Acorn Nuts.