Bridge Lube Nuts are used primarily in the bridge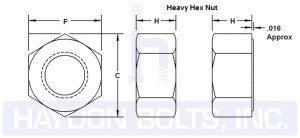 industry. They come with lubrication applied on the internal threads and on the face of the nut that will be in contact with the joint. The purpose of leaving sides of the nut and opposing face of the nut clean of lubrication is to reduce the amount of labor and safety issues that occur when cleaning the exposed faces of the nut to prepare for painting. The heavy hex nut is double chamfered for general purpose mechanical and structural uses, with A325 and A490 heavy hex structural bolts.
Finish: Mechanically Galvanized, with lubricate on the internal threads and face of the nut.
Grade: A563 DH Heavy Hex Nut
Table X1.1 Nut Compatibility Chart
Grade of Bolt
Finish
Nominal Size
A563 Grade and ANSI Nut Style
Recommended
Suitable
Hex
Heavy Hex
Hex
Heavy Hex
A307 Grade A & C
Any
1/4 to 1-1/2
A
-
B,D,DH
A,B,C,D,DH,DH3
A307 Grade A & C
Any
>1-1/2 to 2
-
A
A
C,D,DH,DH3
A307 Grade A & C
Any
>2 to 4
-
A
-
C,D,DH,DH3
A307 Grade B
Any
1/4 to 1-1/2
-
A
B,D,DH
B,C,D,DH,DH3
A307 Grade B
Any
>1-1/2 to 2
-
A
A
-
A307 Grade B
Any
>2 to 4
-
A
-
-
A325 Type 1
Plain
1/2 - 1-1/2
-
C
-
C3, D, DH, DH3
A325 Type 1
Galvanized
1/2 - 1-1/2
-
DH
-
-
A325 Type 3
Plain
1/2 - 1-1/2
-
C3
-
DH3
A354 Grade BC
Plain
1/4 to 1-1/2
-
C
-
C3, D, DH, DH3
A354 Grade BC
Plain
>1-1/2 to 4
-
C
-
C3, D, DH, DH3
A354 Grade BC
Galvanized
1/4 to 1-1/2
-
DH
-
-
A354 Grade BC
Galvanized
>1-1/2 to 4
-
DH
-
-
A354 Grade BD
Plain
1/4 to 1-1/2
-
DH
-
D, DH, DH3
A354 Grade BD
Plain
>1-1/2 to 4
-
DH
-
DH3
A449
Plain
1/4 to 1-1/2
B
-
D, DH
B,C,D,DH,DH3
A449
Plain
>1-1/2 to 3
-
A
-
C,C3,D,DH,DH3
A449
Galvanized
1/4 to 1-1/2
-
DH
D, DH
D
A449
Galvanized
>1-1/2 to 3
-
DH
-
D
A490 Type 1
Plain
1/2 - 1-1/2
-
DH
-
DH3
A490 Type 3
Plain
1/2 - 1-1/2
-
DH3
-
-
A687
Plain
5/8 - 3
-
DH
-
DH, DH3
A687
Galvanized
5/8 - 3
-
DH3
-
-
F1554 Grade 55
Plain
1/4 to 1-1/2
A
-
B,D,DH
A,B,C,D,DH,DH3
F1554 Grade 55
Plain
>1-1/2 to 4
-
A
-
C,D,DH,DH3
F1554 Grade 55
Galvanized
1/4 to 4
-
A
-
C,D,DH,DH3
F1554 Grade 105
Plain
1/4 to 1-1/2
D
-
-
DH, DH3
F1554 Grade 105
Plain
>1-1/2 to 3
-
DH
-
DH3
F1554 Grade 105
Galvanized
1/4 to 3
-
DH
-
DH3
Source: ASTM A563-07a Appendix X1
---