Clevises are used to connect tie rods and hanger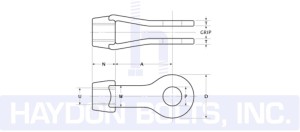 assemblies to structural steel or fabricated lugs. The pin connection ensures that the rod is loaded only in tension and sees no bending forces. Our clevises are widely used in structural steel bracing and pipe support applications.
Finishes: Plain (black) & Galvanized.
Haydon stocks clevis forgings in C1035 steel, ASTM A668 Class A, and 316 stainless steel, ASTM A473 Designation A. Heat-treated carbon and alloy steel clevises are available by special order.

Clevis Dimensions
| Clevis No. | Max Tap Size (U) | Max Pin Size (P) | Eye Dia. (D) | Nut Thickness (N) | Throat Depth (A) | Leg Width (W) | Leg Thickness (T) | Safe Workng Load | Typical Wt w/Pin |
| --- | --- | --- | --- | --- | --- | --- | --- | --- | --- |
| 2 | 5/8 | 3/4 | 1-7/16 | 5/8 | 3-7/8 | 1-1/16 | 5/16 | 3,500 lbs | 1.5 lbs |
| 2-1/2 | 7/8 | 1-1/2 | 2-1/2 | 1-1/8 | 4 | 1-1/4 | 5/16 | 7,500 lbs | 2.5 lbs |
| 3 | 1-3/8 | 1-3/4 | 3 | 1-5/16 | 5 | 1-1/2 | 1/2 | 15,000 lbs | 5.0 lbs |
| 3-1/2 | 1-1/2 | 2 | 3-1/2 | 1-5/8 | 6 | 1-3/4 | 1/2 | 18,000 lbs | 8.0 lbs |
| 4 | 1-3/4 | 2-1/4 | 4 | 1-3/4 | 6 | 2 | 1/2 | 21,000 lbs | 11.0 lbs |
| 5 | 2 | 2-1/2 | 5 | 2-1/4 | 7 | 2-1/2 | 5/8 | 37,500 lbs | 21.0 lbs |
| 6 | 2-1/2 | 3 | 6 | 2-3/4 | 8 | 3 | 3/4 | 54,000 lbs | 32.0 lbs |
| 7 | 3 | 3-3/4 | 7 | 3 | 9 | 3-1/2 | 7/8 | 68,500 lbs | 53.0 lbs |
Allowable Pin and Tap Size Combinations
| Tap Size/Pin Diameter | 1/2 | 5/8 | 3/4 | 7/8 | 1 | 1-1/4 | 1-1/2 | 1-3/4 | 2 | 2-1/4 | 2-1/2 | 2-3/4 | 3 | 3-1/4 | 3-1/2 |
| --- | --- | --- | --- | --- | --- | --- | --- | --- | --- | --- | --- | --- | --- | --- | --- |
| 3/8 | 2 | 2 | 2 | - | - | - | - | - | - | - | - | - | - | - | - |
| 1/2 | 2 | 2 | 2 | - | - | - | - | - | - | - | - | - | - | - | - |
| 5/8 | 2 | 2 | 2 | 2-1/2 | 2-1/2 | 2-1/2 | 2-1/2 | - | - | - | - | - | - | - | - |
| 3/4 | - | - | 2-1/2 | 2-1/2 | 2-1/2 | 2-1/2 | 2-1/2 | - | - | - | - | - | - | - | - |
| 7/8 | - | - | - | 2-1/2 | 2-1/2 | 2-1/2 | 2-1/2 | 3 | - | - | - | - | - | - | - |
| 1 | - | - | - | - | 3 | 3 | 3 | 3 | - | - | - | - | - | - | - |
| 1-1/8 | - | - | - | - | 3 | 3 | 3 | 3 | 3-1/2 | - | - | - | - | - | - |
| 1-1/4 | - | - | - | - | 3 | 3 | 3 | 3 | 3-1/2 | - | - | - | - | - | - |
| 1-3/8 | - | - | - | - | 3 | 3 | 3 | 3-1/2 | 3-1/2 | 4 | - | - | - | - | - |
| 1-1/2 | - | - | - | - | - | 3-1/2 | 3-1/2 | 4 | 4 | 5 | - | - | - | - | - |
| 1-5/8 | - | - | - | - | - | 4 | 4 | 4 | 5 | 5 | 5 | - | - | - | - |
| 1-3/4 | - | - | - | - | - | 4 | 4 | 5 | 5 | 5 | 5 | - | - | - | - |
| 1-7/8 | - | - | - | - | - | - | 5 | 5 | 5 | 5 | 5 | - | - | - | - |
| 2 | - | - | - | - | - | - | 5 | 5 | 5 | 5 | 5 | 6 | 6 | - | - |
| 2-1/4 | - | - | - | - | - | - | - | - | 6 | 6 | 6 | 6 | 6 | 7 | 7 |
| 2-1/2 | - | - | - | - | - | - | - | - | 6 | 6 | 6 | 7 | 7 | 7 | 7 |
| 2-3/4 | - | - | - | - | - | - | - | - | - | - | 7 | 7 | 7 | 7 | - |
| 3 | - | - | - | - | - | - | - | - | - | - | 7 | - | - | - | - |