Coupling Nuts are used to make up long tie rod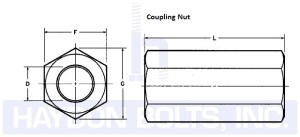 assemblies from shorter lengths of rod and to facilitate assembly of two fasteners or fittings which both have external threads. Coupling nut dimensions are described by the Industrial Fasteners Institute, in IFI-128.
NOTES REGARDING STRENGTH
*When high strength rods are specified, coupling nuts produced to meet ASTM A563 grade DH and A194 grade 2H can be provided. These parts will meet all of the chemical and mechanical properties called for in those specifications.
FINISH: Standard finish is plain, with either a cold drawn or hot rolled mill finish, depending on the type of bar stock used. Hot Dip Galvanizing is available, as well as zinc electroplating.
Coupling Nuts
| Thread Diameter | Across Flats Size | Across Points Size | Length | Weight Each (lbs) |
| --- | --- | --- | --- | --- |
| 1/2 | 3/4 | 7/8 | 1 1/2 | 0.12 |
| 5/8 | 1 | 1 1/8 | 1 7/8 | 0.30 |
| 3/4 | 1 1/8 | 1 5/16 | 2 1/4 | 0.42 |
| 7/8 | 1 5/16 | 1 7/16 | 2 5/8 | 0.56 |
| 1 | 1 1/2 | 1 3/4 | 3 | 0.99 |
| 1 1/8 | 1 5/8 | 1 7/8 | 3 3/8 | 1.23 |
| 1 1/4 | 1 7/8 | 2 3/16 | 3 3/4 | 1.93 |
| 1 3/8 | 2 | 2 5/16 | 4 1/8 | 2.31 |
| 1 1/2 | 2 1/4 | 2 5/8 | 4 1/2 | 3.33 |
| 1 5/8 | 2 3/4 | 3 3/16 | 4 7/8 | 6.17 |
| 1 3/4 | 2 3/4 | 3 3/16 | 5 1/4 | 6.16 |
| 1 7/8 | 3 | 3 7/16 | 5 5/8 | 8.01 |
| 2 | 3 1/4 | 3 7/16 | 6 | 7.9 |
| 2 1/4 | 3 1/2 | 4 1/16 | 6 3/4 | 12.7 |
| 2 1/2 | 3 7/8 | 4 1/2 | 7 1/2 | 17.2 |
| 2 3/4 | 4 1/4 | 4 15/16 | 8 1/4 | 22.7 |
| 3 | 4 5/8 | 5 5/16 | 9 | 29.2 |
| 3 1/4 | 5 | 5 3/4 | 9 3/4 | 36.8 |
| 3 1/2 | 5 3/8 | 6 3/16 | 10 1/2 | 45.8 |
| 3 3/4 | 5 3/4 | 6 5/8 | 11 1/4 | 56.0 |
| 4 | 6 1/8 | 7 1/16 | 12 | 68 |
| 4 1/2 | 6 7/8 | 7 15/16 | 13 1/2 | 96 |
| 5 | 7 5/8 | 8 13/16 | 15 | 130 |
---