Headed Concrete Weld Studs are unthreaded with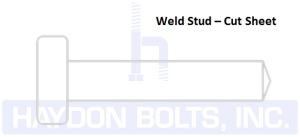 an upset head. The typical use is for anchoring steel plates and shapes in concrete structures. Our Headed Concrete Weld Studs meets AWS and all other applicable specifications. Weld Studs join a stud and another piece of metal together by heating both parts with an arc. They primarily used to anchor concrete to a steel beam. Stud welding uses a type of flux called a ferrule, a ceramic ring which concentrates the heat generated, prevents oxidation and retains the molten metal in the weld zone. The ferrule is broken off of the fastener after the weld is completed. This lack of marring on the side opposite the fastener is what differentiates stud welding from other fastening processes. Drawn Arc stud welding permits strong, one-sided welds on base metals with thicknesses starting at 0.048″ (1.2 mm). It produces welds in as little as 0.06 seconds.
Material – Low carbon steel, ASTM A29/A108, 1010-1020. Also available in stainless steel. Typically provided in SS302 though other grades available on request, please contact us for your specific needs.
Length: Length listed is before weld. Stud diameters less than 5/8" will be approximately 1/8" shorter after weld – Stud diameters 5/8" – 3/4" will be approximately 3/16" shorter – Stud diameters 1" will be approximately 1/4" shorter after weld.
Headed Concrete Anchor Mechanical Properties
| | TYPE A | TYPE B |
| --- | --- | --- |
| Tensile Strength | 61,000 psi minimum | 65,000 psi minimum |
| Yield Strength | 49,000 psi minimum | 51,000 psi minimum |
| Elongation (% in 2") | 17% minimum | 20% minimum |
| Elongation (% in 5x dia) | 14% minimum | 15% minimum |
| Reduction of Area | 50% minimum | 50% minimum |
---
TYPE A STUDS – general purpose studs.
TYPE B STUDS – headed, bent or another configuration that are used as an essential component in composite beam design in construction.
Headed Concreat Anchor
| Part/Number | Weld Base Dia | Overall Length | Piece per Box | Box per Pallet | Pieces per Pallet | Box Weight | Pallet Lbs | Lbs/1,000 |
| --- | --- | --- | --- | --- | --- | --- | --- | --- |
| HA25-112 | 1/4 | 1 1/8 | 2,000 | 27 | 54,000 | 48 lbs | 1,296 | 22 lbs |
| HA25-268 | 1/4 | 2 11/16 | 1,000 | 27 | 27,000 | 45 lbs | 1,215 | 43 lbs |
| HA25-312 | 1/4 | 3 1/8 | 1,000 | 27 | 27,000 | 51 lbs | 1,377 | 50 lbs |
| HA25-412 | 1/4 | 4 1/8 | 600 | 27 | 16,200 | 38 lbs | 1,026 | 63 lbs |
| HA37-137 | 3/8 | 1 3/8 | 1,000 | 27 | 27,000 | 70 lbs | 1,890 | 68 lbs |
| HA37-162 | 3/8 | 1 5/8 | 1,000 | 27 | 27,000 | 79 lbs | 2,133 | 77 lbs |
| WELD038200 | 3/8 | 2 1/8 | 600 | 27 | 18,900 | 67 lbs | 1,809 | 92 lbs |
| HA37-262 | 3/8 | 2 5/8 | 600 | 27 | 16,200 | 66 lbs | 1,782 | 111 lbs |
| WELD038300 | 3/8 | 3 1/8 | 500 | 27 | 13,500 | 62 lbs | 1,674 | 124 lbs |
| WELD038400 | 3/8 | 4 1/8 | 350 | 36 | 12,600 | 55 lbs | 1,980 | 154 lbs |
| WELD038600 | 3/8 | 6 1/8 | 200 | 36 | 7,200 | 44 lbs | 1,188 | 212 lbs |
| WELD050200 | 1/2 | 1 1/8 | 600 | 27 | 16,200 | 68 lbs | 1,836 | 112 lbs |
| HA50-162 | 1/2 | 1 5/8 | 450 | 27 | 12,150 | 64 lbs | 1,728 | 138 lbs |
| HA50-212 | 1/2 | 2 1/8 | 400 | 27 | 10,800 | 67 lbs | 1,809 | 166 lbs |
| HA50-262 | 1/2 | 2 5/8 | 350 | 27 | 9,450 | 71 lbs | 1,917 | 198 lbs |
| WELD050318 | 1/2 | 3 1/8 | 300 | 36 | 10,800 | 68 lbs | 2,448 | 223 lbs |
| HA50-362 | 1/2 | 3 5/8 | 250 | 36 | 9,000 | 65 lbs | 2,340 | 259 lbs |
| WELD050418 | 1/2 | 4 1/8 | 200 | 36 | 7,200 | 56 lbs | 2,016 | 277 lbs |
| WELD050500 | 1/2 | 5 5/16 | 150 | 36 | 5,400 | 52 lbs | 1,872 | 339 lbs |
| WELD050650 | 1/2 | 6 1/8 | 125 | 36 | 4,500 | 49 lbs | 1,728 | 388 lbs |
| WELD050818 | 1/2 | 8 1/8 | 100 | 36 | 3,600 | 50 lbs | 1,800 | 495 lbs |
| HA62-143 | 5/8 | 1 7/16 | 400 | 27 | 10,800 | 85 lbs | 2,295 | 208 lbs |
| HA62-268 | 5/8 | 2 11/16 | 200 | 27 | 5,400 | 62 lbs | 1,674 | 319 lbs |
| WELD062319 | 5/8 | 3 3/16 | 200 | 27 | 5,400 | 75 lbs | 2,025 | 363 lbs |
| WELD062418 | 5/8 | 4 3/16 | 150 | 36 | 5,400 | 62 lbs | 2,232 | 444 lbs |
| WELD062518 | 5/8 | 5 3/16 | 100 | 36 | 3,600 | 55 lbs | 1,980 | 528 lbs |
| WELD062618 | 5/8 | 6 9/16 | 80 | 36 | 2,880 | 55 lbs | 1,980 | 687 lbs |
| WELD062818 | 5/8 | 8 3/16 | 50 | 36 | 1,800 | 52 lbs | 1,872 | 646 lbs |
| HA62-1018 | 5/8 | 10 3/16 | 100 | 9 | 900 | 98 lbs | 825 | 946 lbs |
---
Benefits of Using Headed Concrete Weld Studs
Speed, applying a stud takes less than a second
Single sided, no access to the opposing side needed
Strong, creates a full cross section weld
Stable, will not work itself free like a pres-in fastener
Speed of training, no special skills and very little training needed to install