Square Bend U-Bolts  used in a variety of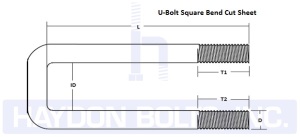 applications, Haydon Bolts manufactures Square Bend U-Bolts in-house. We have the ability to manufacture custom U-Bolts to your exact specification, contact your sales representative for more information.
Diameters: 1/2″ through 4″
Length: Any Length
Grades: F1554-Grade 55 S1, F1554-Grade 105, A354-BD, A449, A193, 303 SS, 316 SS
Finishes: Plain (black,) Galvanied & Stainless Steel
Don't see your size listed below? Contact your sales rep to see if we can make it for you.
Square Bend U-Bolts Hot Dip Galvanized
| Part Num | Dia (A) - Thread | Inside Width (C) | Overall Length (B) | Thread Length (T) | Lbs/100 | Lbs/100 w/4Nuts |
| --- | --- | --- | --- | --- | --- | --- |
| 53405 5 | 3/8"-16 | 2" | 3" | 1-1/2" | 19 | 25.5 |
| 53410 9 | 3/8"-16 | 2" | 5" | 3" | 29 | 35.5 |
| 53415 4 | 3/8"-16 | 2" | 7" | 3-3/4" | 38.5 | 44.5 |
| 53420 8 | 3/8"-16 | 4" | 3" | 1-1/2" | 23.5 | 29.5 |
| 53425 3 | 3/8"-16 | 4" | 5" | 3" | 33.5 | 40 |
| 53430 7 | 3/8"-16 | 4" | 7" | 3-3/4" | 43.5 | 49.5 |
| 53435 2 | 3/8"-16 | 6" | 5" | 3" | 38.5 | 44.5 |
| 53440 6 | 3/8"-16 | 6" | 7" | 3-3/4" | 48 | 56 |
| 53445 1 | 3/8"-16 | 6" | 9" | 5-5/8" | 57 | 63 |
---
Square Bend U-Bolts Zinc Plated
| Part Number | Dia (A) - Thread | Inside Width (C) | Overall Length (B) | Thread Length (T) | Lbs/100 | Lbs/100 w/4Nuts |
| --- | --- | --- | --- | --- | --- | --- |
| 51005 9 | 3/8"-16 | 2" | 3" | 1-1/2" | 19 | 25.5 |
| 51010 3 | 3/8"-16 | 2" | 5" | 1-1/2" | 19 | 25.5 |
| 51015 8 | 3/8"-16 | 2" | 7" | 3-3/4" | 38.5 | 44.5 |
| 51020 2 | 3/8"-16 | 4" | 3" | 1-1/2" | 23.5 | 29.5 |
| 51025 7 | 3/8"-16 | 4" | 5" | 3" | 33.5 | 40 |
| 51030 1 | 3/8"-16 | 4" | 7" | 3-3/4" | 43.5 | 49.5 |
| 51035 6 | 3/8"-16 | 6" | 5" | 3" | 38.5 | 44.5 |
| 51040 0 | 3/8"-16 | 6" | 7" | 3-3/4" | 48 | 56 |
| 51045 5 | 3/8"-16 | 6" | 9" | 5-5/8" | 57 | 63 |
---