Straight Rods, SAG Rods or Anchor Rods have many applications from being embedded in concrete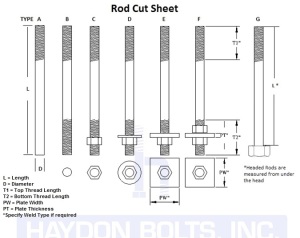 to support structural steel columns, highway sign structures, industrial equipment, light poles among many other applications. Rods come in various configurations, IE rods with threads at both ends, rods with a  plate washer or nut tack welded on, rods with steel sleeves etc., no matter what your configuration Haydon Bolts is ready to manufacture your rods and give you a quick turn-a-round. Click on the picture for a downloadable cut sheet.
Diameters: 1/2″ through 4″
Length: Up to 40′ length in 2″ diameter rods, 24′ in diameters greater than 2″
Grades: F1554-Grade 55 S1, F1554-Grade 105, A354-BD, A449, A193, 303 SS, 316 SS
Finish: Plain (black,) Hot Dip Galvanized & Mechanically Galvanized
Certifications available on our "Melted and Manufactured in the U.S.A." steel, via our online cert program.
PENNDOT Bulletin 15 Approved Vendor for F1554, A449 & A307 Bolts/Rods  
   slsb