Stud Welding Procedure
Stud Welding Procedure
Tips and Best Practices for Proper Stud Welding Procedure:
Set time for appropriate weld base diameter.
Set amperage for appropriate weld base diameter .
Make sure negative polarity is to stud welding tool.
Align accessories so they are as close to centered and adjust lets.

Have at least 3/16″ to 1/4″ of stud protruding beyond ferrule. See "Weld Stud Stickout Chart." 

Have a good clean ground.
Work surface should be relatively clean so impurities do not affect weld. This includes cleaning off painted surfaces before welding.
Keep studs and ferrules clean and dry. Ferrules CANNOT get wet.
Test welds at beginning of each shift or change in stud. Bend two studs 30° after cooled.
Check burn off 1/8″ to 3/16″, color should be silver/blue and shiny, fillet should be 360° around the base of the stud.
Visually inspect ALL welds.
---
How to Adjust Weld Stud Plunge Depth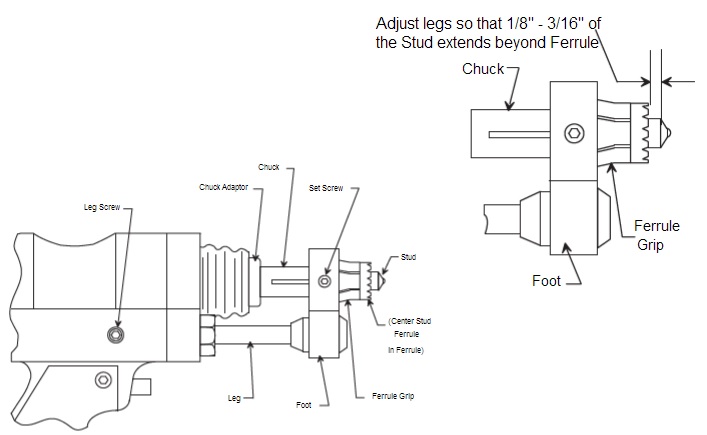 Place a chuck into the chuck adapter. Tap on the end lightly to make sure that the chuck is properly seated in the adapter. NOTE: A different chuck is required for each different stud diameter.
Insert a ferrule grip into the foot and tighten the set screws on the foot. Note: A different ferrule grip is required for different diameter ferrules.
Insert a stud into the chuck and a ferrule into the ferrule grip.
Loosen the screws holding the FOOT and adjust the foot and adjust the foot so the stud is as centered as possible in the ferrule. This is IMPORTANT so that there is no binding between the ferrule and the stud, which could lead to improper welds due to a hang-up. A good rule of thumb is that you should be able to work the weld tool mechanism with the ferrule in the place without knocking the ferrule out of the the ferrule grip.
loosen the leg set screws, there is one on each side of the weld tool.
Adjust the legs so that the stud extends 1/8″ to 3/16″ beyond the end of the ferrule.
After you have properly positioned the legs, tighten the leg set screws on both sides of the weld tool body.
IMPORTANT: You must readjust the plunge setting whenever changing stud lengths.
Weld Stud Stick Out Chart
| Diameter | Plunge/Stick Out |
| --- | --- |
| 3/16" through 1/2" | 1/8" |
| 5/8" through 7/8" | 3/16" |
| 1" and OVER | 3/16" to 1/4" |
Tips courtesy of BlueArc Stud Welding